Myths and Facts
The Facts Cannot be Ignored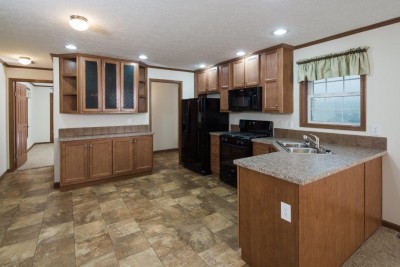 The facts cannot be ignored.  More and more South Dakotans are turning to manufactured homes to meet their housing needs.  No longer considered a stepping stone, today's manufactured homes are occupied by people who are enjoying high-quality, long-term housing.
Years ago, manufactured housing earned its reputation as an affordable housing alternative.  Today, the manufactured housing industry is better known for its quality construction, convenient financing terms and unique design choices.
If you're looking for affordable, energy friendly, quality housing, read on.  Once you get the facts, you won't believe the value of manufactured housing.
Half the price and twice the value

Based on square footage cost, manufactured homes are less than half the cost of site-built homes.  Utilizing the latest construction techniques, manufactured homes are energy efficient and provide lower utility costs.  Most manufactured homes are delivered complete with all fixtures, major appliances, carpets and drapes.
Compare the square foot cost of manufactured homes to site built homes.  Our new singles start at $51 per square foot.  Our new sectionals start at $68 per square foot.  A similar sized site built home will cost $115 to $150 per square foot.
When comparing, make sure you compare apples to apples – We have good apples!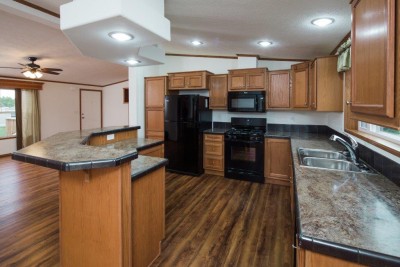 We sell our homes move-in ready.  The price we quote is a turn-key price.  Our homes are energy friendly and built not only for the first buyer but with an eye toward home resale.
We build our homes with a heavier roof load, better insulation, a right sized furnace and air conditioner and a 200 amp electrical panel to take care of your AC needs and make it easier for you to add a garage. Our homes come standard with tape and textured walls, a deluxe kitchen and cabinets, a 12 X 12 and a 6 X 8 cedar decks, gutters and downspouts and a 50-gallon double element water heater as compared to a 30-gallon single element water heater.
We make sure the lot has proper drainage.  A River Bluff home is double blocked and properly anchored.  While upgraded windows are more money, we know they save you money and result in better resale.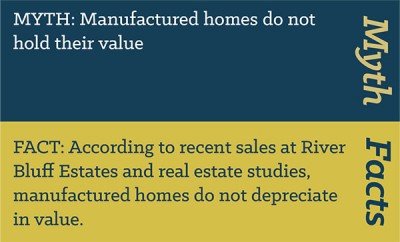 Finally, who you buy from is as important as what you buy.  River Bluff Estates is a licensed, bonded and insured retail dealer.  We have professional craftsman to take care of not only delivery and set-up of your home, but we also provide service after the sale.  Our team of professionals includes contractors who specialize in:  installation and set-up; electrical; drywall; trim; heating & AC; decks; painting; skirting; concrete; plumbing and flooring.
From finding the right home to ensuring that you continue to enjoy your home for years, we are here to help you through the process.
Your lot rent may be less than you think
If you compare actual cost of a site-built home with a River Bluff home, you will find that lot rent is a lot less than you think.
River Bluff Estates fills a niche in the housing market.  We provide housing to those who do not want the added expense and responsibility of real estate, land improvements and housing.  We also offer affordable, energy friendly but yet a quality housing solution.
First, consider the cost of a site-built home in the Fort Pierre/Pierre market.  The cost to build a 1,300-square-foot 3 bedroom, 2 bath site-built home is at least $169,000 or about $130 per square foot.  Your land and site development cost will be at least an additional $30,000 above and beyond the $130 per square foot.   Your total cost will be about $199,000.
Take a look at your property tax savings! If assessed value is 85% of the full and true value, then the assessed value of a $199,000 home will be about $169,000 or about $2,873 of property taxes per year.  The property taxes on a similar-sized manufactured home at River Bluff with an assessed valuation of $84,992 would be about $1,445.  This represents a savings of $1,428.  More important, you receive this savings every year you own the River Bluff home.

The actual cost of your lot rent is also offset because the water is not metered.  The resident pays the minimum water and sewer charge to the City of Fort Pierre and River Bluff Estates pays the rest.  Residents also save because our lawn care professionals mow your lawn as part of your lot rent (you have option to mow your own).
| | | | |
| --- | --- | --- | --- |
| Cost of 1,300 sq.-ft.-home | $199,000 | Cost of 1,300 sq.-ft.-home | $99,990 |
| Cost of Lot | $30,000 | Lot Rent | $215/month |
| Property Taxes | $239/month | Property Taxes | $120/month |
| Lawn Mowing | $15/month ($180/year) | Lawn Mowing | None |
| Water/Sewer | $60/month | Water/Sewer | $45/month |
| Total | $314/month | Total | $380/month |
Net Cost of Lot Rent = $66 per month – For that $66 per month, you also get to live in a clean, safe and family friendly neighborhood.  Residents also receive concrete off-street parking and the streets are lighted.  River Bluff also offers spacious lots with a great view, secure mail boxes and a neighborhood with good resale.
Compare Energy Efficiency

River Bluff homes are energy friendly.  Our homes are well built and insulated.  Our walls (R-19), the roof, (R-33) and the floors (R-22) exceed the thermal protection required by the building code. We also weather wrap each home to further increase energy efficiency.  In addition, we install insulated skirting and energy efficient windows on all River Bluff homes.
This package adds some upfront cost to the home but ends up making the customer money by reducing heating and cooling expense.  Manufactured homes are no longer the fuel guzzler of yesterday.  Today, they compare favorably with many other types of housing.
 Are manufactured homes hard to get financed?
River Bluff works with several local lenders, national finance companies and investors who will finance manufactured homes.  These lenders can provide you with a full range of financing options with as low as 5% down and terms up to 25 years.  Conventional programs include fixed rate, step rate, and variable rate home finance programs.

You can own for less than a rental payment
In the Fort Pierre/Pierre area, a 1,100 square foot home will cost $800 to $1,100 per month to rent.  For the same or less monthly payment, people can buy a spacious, energy friendly 3 bedroom, 2 bath tape & textured home with a deluxe kitchen, upgraded appliances, air conditioning, big decks, gutters and downspouts in a clean, safe, family friendly neighborhood.  After just three years, this River Bluff home buyer will have paid off over 20% of their loan.  By buying rather than renting, they have almost $14,000 to show for their buying decision.
| | | |
| --- | --- | --- |
| | Typical Rental | Home purchased at River Bluff |
| House Payment | N/A | $486/Month |
| Rent | $900/Month | $215/Month (Lot Rent) |
| Insurance | $15/Month (Renters Insurance) | $85/Month (Homeowners Insurance) |
| Total | $915/Month ($10,980/Year) | $871/Month |
| After Three Years | $32,940 | $31,356 |
| Home Equity gained | N/A | $13,835 (20% of House Loan Paid) |
Living in style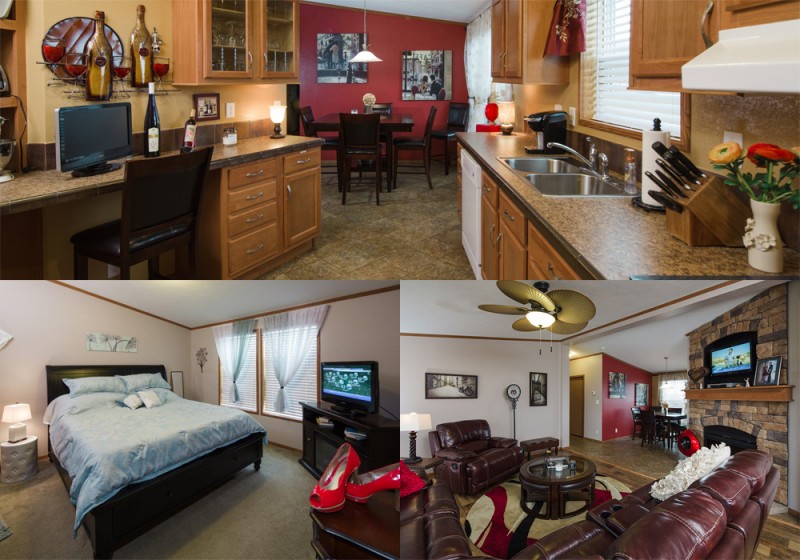 Did you know that today's manufactured home can be decorated to suit your tastes, your lifestyle and your budget?  From gourmet kitchens to vaulted ceilings, fireplaces and bathrooms with recessed tubs and whirlpools, the choices are endless.  You can even select the carpeting, cabinets and bathroom fixtures that you've always dreamed of.  In many cases these comforts, including furniture and appliances, come complete with your new manufactured home.  Just step in and start living in style.  Choose comfort and convenience features of your new home by asking River Bluff to show you all the possibilities.
Comfort for a lifetime
Manufacturing practices and construction standards have changed a lot in the last 50 years.  Today's manufactured home has evolved from the 1950's trailer into a modern, spacious, comfortable, durable, year-round dwelling for over millions of Americans.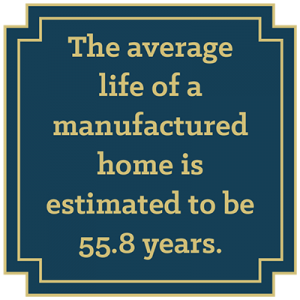 A study by Dr. Carol Meeks, a professor and head of the Department of Housing and Consumer Economics at the University of Georgia in the late 1990s indicated the life of a new, year-round occupied manufactured home is estimated to be 55.8 years.  Since that time, even more improvements have been made to manufactured homes.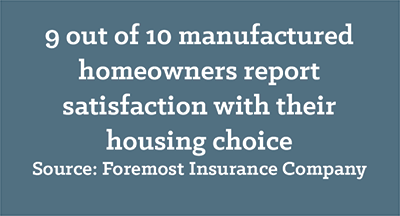 The conclusion:  the durability of a manufactured home can provide a lifetime of comfort.
How did manufactured homes become so durable?  Just as site-built homes are constructed according to a specific building code to ensure proper design and safety, manufactured homes are constructed in accordance with the Federal Manufactured Home Construction and Safety Standards in effect since 1976.  This building code is administered by the U.S. Department of Housing and Urban Development (HUD).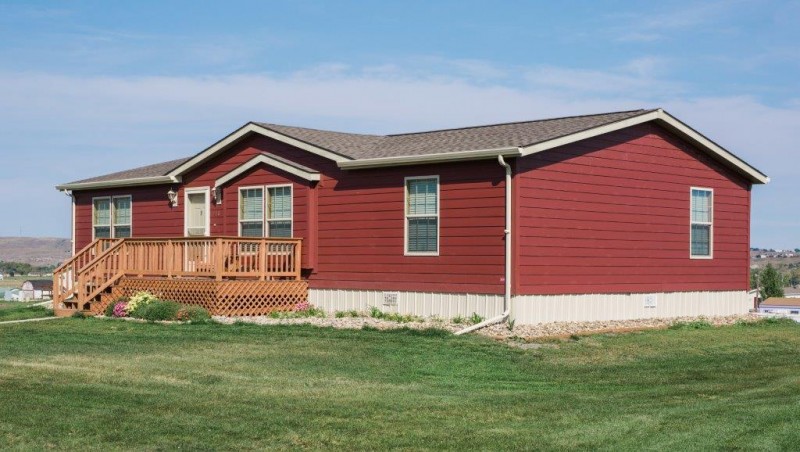 HUD regulates manufactured home design and construction, strength and durability, fire resistance and energy efficiency.  No manufactured home may be shipped from the factory unless it complies with the HUD Code and receive the certification from an independent third-party inspection agency.  This is your assurance of a safe, quality constructed home.